My last blog, "Manage your Mood with This One Simple Technique," talked about using trigger words to manage your moods where appropriate.
This blog shows you how a resourceful habit to promote well-being can take it further. I am talking about gratitude habit.
Gratitude Habit 
You don't have to take my word for it – The Greater Good Science Centre offers a plethora of information on this subject by many writers. In a white paper titled, "The Science of Gratitude" (2018), they outline several benefits to gratitude habit:
For the individual:
increased happiness and positive mood
more satisfaction with life in general
less materialistic
less likely to experience burnout
better physical health
better sleep
less fatigue
lower levels of cellular inflammation
greater resiliency
encourages the development of patience, humility, and wisdom.
We get what we focus on. This pandemic is an extremely rich environment for being sucked down into negativity on a daily basis. The Media if full of doom and gloom about the statistics, the new tiers, the impact on the economy, Christmas holiday arrangements. That is before we look at how it is affecting you or your loved ones.
Gratitude is complicated when we are struggling in this vast sea of uncertainty. Right now, we're facing real and imagined death, as well as facing so many other types of loss, our:
health or that of our loved ones,
jobs or business
ability to be with the people we love,
plans for our celebrations – secular or religious.
So many people are feeling sadness, frustration, despair, hopelessness, and fear, so gratitude can be the last thing you are feeling right now. If that is true for you at this present moment, don't force it. When ready try starting with the small such as appreciating your cup of coffee or a bunch of flowers or an act of kindness. Whatever is lifting your spirit. By adding the emotion gratitude which gives you the extra 'warm' feeling will lift you further out of the gloom. It also releases the endorphins.
You can then move onto incorporating activities that will embed gratitude as part of your day to counteract the negativity 'soup' we live in.
Seven ways to cultivate a gratitude habit
Here are seven ways to  cultivate gratitude habits (daily or weekly) to realise the benefits described above: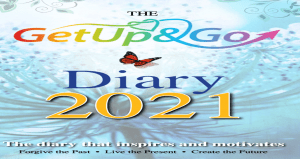 Journaling, which is my favourite. I have talked about this in my mindful stress management and resilience workshops. I use the Get up and Go Journal. I journal about things, people, or situations for which I am grateful even on occasion the 'negative' ones. It keeps me grounded in the good things in daily life. The other added bonus of this particular diary is that it is full of inspirational quotes.
If you don't like journaling, then reflect, before you go to sleep, about three things for which you were grateful for that day.
Think about someone for whom you are grateful to and write a gratitude email, card or letter. Challenge yourself to do one monthly or even weekly.
In my workshops* I talk about being more 'present' by being aware of your five senses. For the gratitude habit answer the question is – How does each sense enhance your life?
As recommended in my manage your mood blog for a trigger – use sticky notes (or visual cues such as a favourite photograph) to remind you to look for what you can feel grateful for.
Use positive words such as blessings, blessed, fortune, fortunate, and abundance. In gratitude, you should not focus on how inherently good you are, but rather on the inherently good things that others have done on your behalf.
Be a 'Grateful Grazer'. Be on the lookout for opportunities to feel grateful and relish these during the day. Be creative when looking to flex your gratitude habit.
So, if you do any of the above it will help you when you are struggling to be grateful over the Christmas holidays during this pandemic. This is because it will help you focus on your enjoyment of what is (however you are spending Christmas) which can stop you hankering or becoming bitter on what is not.  (You cannot feel grateful and negative at the same time).
Would like to learn more practical techniques to support wellbeing?
Then in one hour on Zoom I will provide you with the three key areas you can control to get your resilience back on track. I can share with you, useful techniques to boost your resilience during this time of great uncertainty read more here.
The workshop is priced at only £29.00 per person as times are challenging, so represents excellent value for money. To book on the 3rd or 10th December 'Boosting your Resilience in a time of Change' workshops – email me at ann@yorkshirecoursesforlawyers.co.uk
You may also find some of my other blogs that provide well-being techniques useful for these uncertain times:
Do you have difficulty managing a roller coaster of emotions in times of change? My blog, Are you a Carrot, an Egg or a Coffee Bean?, asks you this quirky but important question and offers insight into how you can improve the way you react in unpredictable situations.
Do you feel like an impostor when successes or challenges come your way? Or perhaps you practise perfectionism to a fault? If so, read Is Your Desire to be Perfect Driving you into the Impostor Syndrome?
Want a quick boost to building your resilience? Read: How to Build Your Resilience as a Lawyer
Last but not least, I have three blogs on Mindfulness as follows:
Ann Page, Business Author, Trainer and Coach for the Legal Profession.
Ann is a non-practising solicitor with over 28 years' experience in the business world. Since 2003 she has trained nearly 7000 lawyers in leadership, management, business and interpersonal skills.  She is the founder of www.yorkshirecoursesforlawyers.co.uk
Ann has trained with the Coaching Academy and holds a H.N.L.P. certificate in coaching. She is NLP Master Practitioner, as well as a member of the Professional Speaking Association and Professional Speakers Academy.